22 Things We're Looking Forward to in 2022
https://www.thegrandmacon.com/wp-content/uploads/2022/01/IMG_0248-1-e1643231413440.png
1440
1689
Julia Morrison
https://secure.gravatar.com/avatar/541600aed656049a744520b24f52a584?s=96&d=mm&r=g
January is a month of beginnings, and The Grand is excited to keep opening our doors wider to Central Georgia's community in 2022. It hasn't been easy to be a performing arts venue in the midst of a COVID-19 pandemic and we can always use your support. But we are proud to say that we're hopeful for more applause, laughter, music, and memories here at The Grand this year.
1. Bringing hip-hop to the symphony in a world premiere
The birth of the Macon-Mercer Symphony Orchestra this year has created magic moments that we can't wait to repeat, both with the upcoming two concerts and the arrival of the MMSO's second season. It's hard to put a finger on just what makes the recipe for symphony in Macon so special. It's the intergenerational collaboration between local college students and Atlanta Symphony Orchestra principal players. The energy of a crowd of music lovers younger and more diverse than ever before. Celebratory toasts and special receptions. And a program that defies expectations of genre. The season ends on April 25 with a landmark commission from local hip-hop artist Bob Lennon called "Don't Look at Me" that is sure to rock the house. Make More Music Mondays are the best way to see and be seen in Macon – do you have your ticket yet?
2. Traditions that make the "most wonderful time of the year" grander
Christmas might seem so far away now, but at The Grand, we act as
Santa's little helpers all year to make holiday magic happen. We love being an annual part of many families' routines. We've already put tickets for Christmas with John Berry on sale and we can hear the soaring notes of "O Holy Night" in our head now. And the wheels never stop turning all year for Nutcracker of Middle Georgia, where hundreds of area students and volunteers unite with breathtaking professional dancers to present the classic story of Clara.The best part about presenting these shows year after year is being a part of these families' lives. We met a group with three generations – grandparents through children – this last December that said because of the pandemic, "Christmas just wasn't the same without Nutcracker!"
3. Memories under the marquee
Here's what we think – if you love someone, say it loud and proud with neon
lights! We've celebrated family reunions, weddings, engagement shoots, Mother's Day, and more with messages on the front of the theatre. Our marquee surprises have been so fun to watch. Even planned photoshoots have gone off without a hitch. After all, nothing shines brighter than the person with a starring role in YOUR life. And sending a message to your love is the best gift of all – the one of memories. Our normal marquee rates are $50/hour and $300/day, and we will customize to any colors, message, etc. that you need. Contact Julia to get started. For Valentine's Day, stay tuned for our marquee special again for a shorter amount of time for just $20 – details coming out ASAP! (If you're planning on proposing, we'll pull out all the sneaky ninja moves to make it the best day ever).
4. An explosion all around the building!
Last fall, we're proud to say The Grand EXPLODED – with art and performances from dozens of artists, that is! The inaugural Macon Art eXplosion (MAX) provided a platform for making art in uncommon places with
new faces. We had over 40 artists participate in rap shows in the green room, mini-exhibits taking up a dressing room, an interactive dating game in the box seats. Audience members got to come and make collective art works together, experience mini-classes, buy homemade art and decor from local vendors, and tour the inner workings of our 115+ year old theatre on their own terms. MAX is inspired by a Fringe Festival model, welcoming original and off-beat art that doesn't find a space in major institutions. We solicited artists through an artist council of practicing artists, using a model of radical inclusion to welcome emerging and exploring artworks. In 2022, Macon Art eXplosion will return Nov. 4-6, 2022 with an even bigger and better festival. See you there!
5. Working with new faces… which could include YOU!
The Grand is lucky to be a part of Mercer University, which means every semester we receive a
new crop of students who learn how to work our box office and directly interact with patrons. This spring, you may see our Arts Marketing Intern Lidya Dereje (that's her at left) at events clicking her camera – she is planning on contributing some video blogs and social media content for The Grand. Additionally, we recently welcomed a new full-time staff member, Chas Pridgen. Chas will be your frontline contact for all ticketing questions as well as helping you navigate your guest experience in the lobby before the show. Chas will also answer your questions about rentals at the theater and coordinate volunteers. Find out more about Chas. Did you know anyone can volunteer at The Grand? Volunteers help keep us as a friendly and community-oriented facility, plus you get to see some of the best entertainment in Central Georgia for free! To get on the list to volunteer, please email Chas here.
6. Playing tribute to our '80s Babies
Let's tease our big hair back up and don our oversized sweatshirts, because '80s nostalgia reigns this spring at The Grand. First up, we'll get our cabaret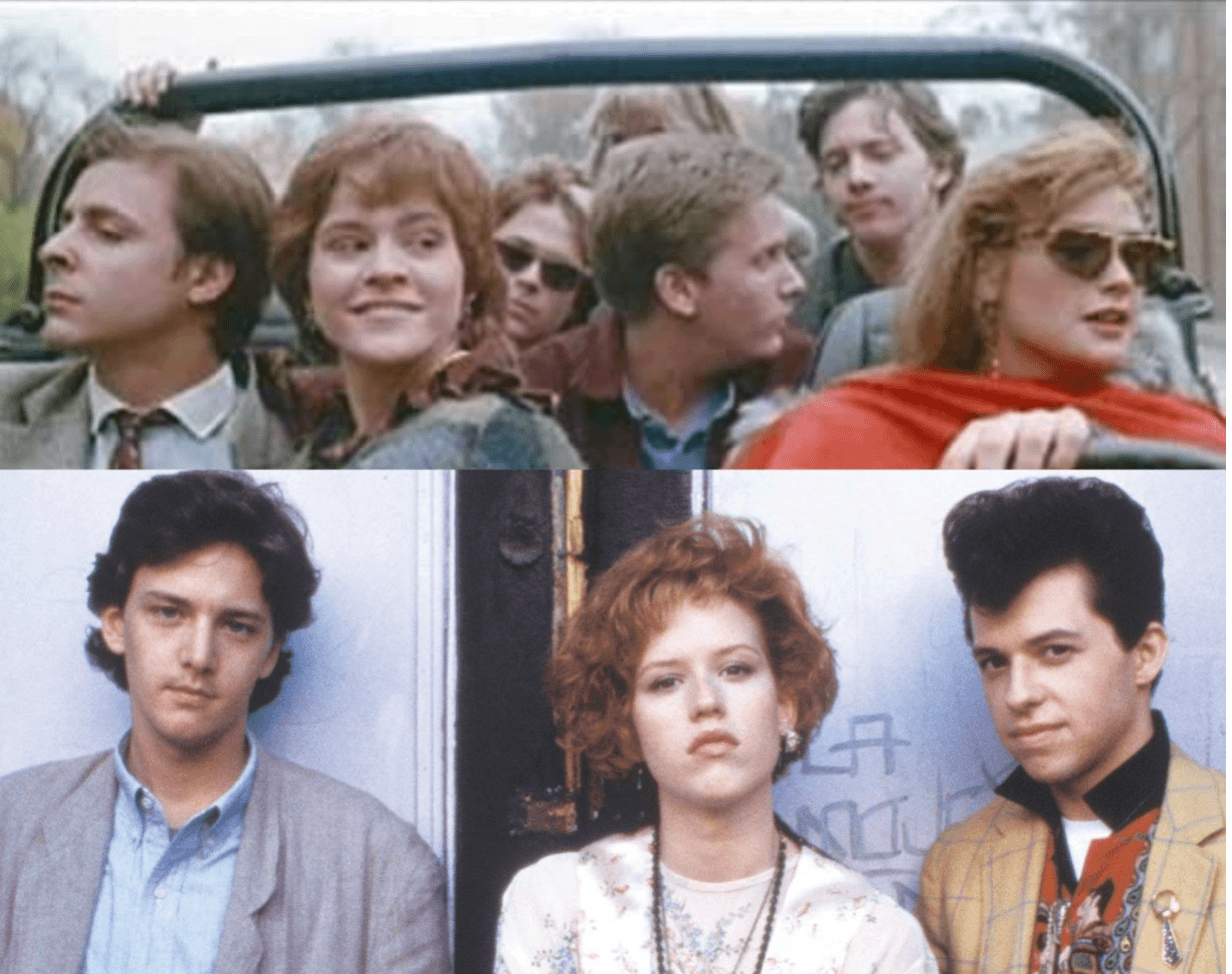 on with our high-octane local lounge act Broadway Does the '80s – mixing musical standards from the likes of Andrew Lloyd Webber, Sondheim, and more with Broadway-fied pop songs like Madonna, Prince, and Whitney. You'll get a kick out of the energy and power of the decade with these singing sensations right in the middle of the fun and excitement of the Cherry Blossom festival. Next, we'll do a double feature movie night with the Brat Pack – yup, all your favorite John Hughes stars are back! We'll take you back to the prom first with the upbeat teen romance Pretty in Pink and then shift to the darker St. Elmo's Fire about twenty somethings navigating responsibility and crisis.
7. Yellow school buses piled up on Mulberry Street
This year, we brought back GrandKids, our Arts in Education program bringing local schoolchildren performances geared just for them. GrandKids is very special t
o what we do here in the theatre – giving children access to the arts opens up their hearts for a lifetime, and deepens their imagination. After years of not hearing the laughter of kids in the theatre due to the COVID-19 pandemic, bringing GrandKids back has been a wonderful joy! We love watching the school buses pull up in front of Mulberry Street and seeing the bright and happy faces "ooh and ahh" over the majesty of our historic venue for the first time. In the spring, we're going to have The Pout-Pout Fish entertain Bibb County School District kids with a story of deep sea adventure
8. Seeing your horror-inspired or hilarious Halloween costumes
Last year, The Grand had your Halloween plans on lockdown with the showings of two
popular movies as part of our film screening series – Hocus Pocus and The Rocky Horror Picture Show. We loved having live movie hosts keeping you laughing, a costume contest, and more! This year, we're excited to announce that both Hocus Pocus and Rocky Horror will be BACK, and better than ever. You'll be able to see the Sanderson Sisters on October 22nd and Dr. Frank-N-Furter will make a fabulous appearance on October 29th – mark your calendars! The same energetic contests and new surprises will be there to spook you out of your wits.
9. Not having to circle around for a spot or look for spare change
One thing you'll never have to worry about coming to a show at The Grand Opera House in #DowntownMacon is parking. The Grand offers free and convenient parking adjacent to the
building for all evenings and weekends for our patrons. If you are facing the front of The Grand on Mulberry Street, the parking lot is a surface is to the left of the building. So feel free to come down, grab a spot, and go get dinner before the show. We've got you covered for a convenient and easy night out. In fact, The Grand is all about making things easy. That's why it's so easy to get tickets and information about our performances. We have a box office phone line (478-301-5470) and physical ticket office open from 10 AM-5 PM, and one hour before most performances. You can always buy tickets online at thegrandmacon.com. Many people ask about online ticket fees, and here's an insider tip — if you buy your tickets on the phone with the box office, you do not have to pay these fees.
10. Uncovering the stories of homes, seemingly forgotten
We're working on creating a participatory performance about blight. If you live in Macon-Bibb, surely you've heard about blight as an issue, with over 4000 blighted homes across the county. We focus in on one historic neighborhood, Pleasant Hill, to hear the stories of empty homes when they were once alive, and to try to track why they have now faded. We're turning this research in a new performance called Healing a Haunted House. We will then turn to you, our community and audience, to crowd-source solutions on how we can all come together in the #BlightFlight.
11. Discovering the flavors of the world only a quick stroll away…
Every year, downtown Macon becomes more of a destination. Now, when you prepare for a night out at The Grand, you also have the option of over 50 different eateries to choose from, with world-class cuisine that covers the flavors of the globe in a couple walkable blocks. In 2022, we look forward to the opening of Pearl, a chef-driven, Cajun-style concept from the creators of The Monkey's Paw Tiki Bar (p.s. – if you haven't made it over there, it's the perfect nightcap after a weekend show). Another amazing food option is Kinjo Kitchen and Cocktails, an upscale Asian-fusion restaurant that we've partnered with for an exciting prix fixe pre-theatre dinner option on some of our events.
12. More high notes. More 11-o-clock numbers. More Broadway-style sass.
As soon as the COVID-19 pandemic hit, The Grand decided to innovate. Known as the home of Broadway in Central Georgia, when we could
n't bring the stars of Broadway to you, we brought the stars of our community into the spotlight with our virtual Bite-Sized Broadway Series, produced at The Grand by staff member Julia Rubens with music direction by McKinley Starks. Though the virtual concerts were thrown together quickly to try to bring people together while distanced, the seeds of this creative effort have blossomed. The entire Grand staff and volunteers worked in the fall of 2020 to turn the house inside out to safely produce the Broadway Does Cabaret Concert Series on the fire escape, with audience members pulling up lawn chairs and coolers into The Grand's parking lot. Even after we've moved back inside, the energy and enthusiasm for our lounge-style act featuring spectacular vocals vamped by local stars has continued over the past two seasons. In March, we'll welcome Broadway Does the '80s and then end the season in May with Broadway Does Soul.
13. Spring is just around the corner when the Pinkest Party on Earth arrives!
Let's face it, this is the worst weather all year! The cold and rainy season makes us dream of spring, and in Macon, nothing signals spring more than
our internationally famous cherry blossoms. The Cherry Blossom Festival honors a relationship with Japan, and this year at The Grand, we'll feature Kenny Endo Taiko Ensemble so you can see this ancient art of Japanese drumming. Executive Director Joe Patti has brought Kenny Endo to the stage at numerous other venues, which drove his decision to have them at The Grand. Here's why he thinks you should see the show: "He really is the first foreign-born person to get a license to do classical drumming. He spent over a decade in Japan. Because I saw him all the time in Hawaii, I took it for granted before I saw him as the opening act for another performer. He outshone the featured act! His authenticity and energy is unparalleled, and the respect he's earned from percussionists across genres tells you he's the real deal."
14. Welcoming more new visitors than ever to see where soul lives
Next week, Hotel Forty Five plans to open to guests for the first time in their bran
d new, upscale, 90+ room hotel. This is the first hotel to open in downtown Macon in over 50 years and we are so excited that visitors will have a place to stay for concerts and events with just a short walk over to The Grand. We plan to create special offers and incentives to hotel visitors to welcome them to town at our theatre. Plus, their restaurant, coffee bar, and rooftop cocktail bar will create more opportunities to create a full night of entertainment when you come to see a show.
15. Covers that take a unique spin on the classic songs you know and love
When you think Macon, you think music, and the classics are songs that we love to hear again and again. We have so many unique covers of artis
ts coming this spring so you can sing along with your all-time faves. First will be ABBA MANIA, the top tribute to ABBA that turns your night into an all out dance party. In March, we'll bring the ultimate date night to you in the form of The TEN Tenors, a smooth vocal ensemble of multipart harmonies taking on romance with their show "Love is in the Air." April showers will bring in vintage flowers to bloom with the electric-hot energy of Postmodern Jukebox, which has gone viral for doing the pop hits of today in the styles of yesteryear. Ever thought of Lizzo as big band? Want to see the Spice Girls made into jazz? PMJ will be a can't-miss evening of surprises.
16. Look Ma, we're on TV
We have a wonderful opportunity to partner with stars who have local ties to Macon's legendary music history – and film it for all of America to see. A Night of Georgia Music he
adlines Robert McDuffie, Chuck Leavell, and Mike Mills for a night of Peach State favorites and one brand-new composition. Not only will sounds of Ray Charles, The Allman Brothers Band, R.E.M., Otis Redding, and more be here, the entire show is being filmed for a PBS special to air. We can't wait to see ourselves on the screen. The show is sold out, but call our box office at 478-301-5470 to check out how you might have an opportunity to view this extraordinary production. Speaking of appearing on screen, The Grand was used as a filming location last year for the new FOX series Monarch, a drama about a dynastic country music, premiering this fall. Mark your calendars to not miss this series helmed by Susan Sarandon.
17. That special occasion with the people you love
We open The Grand up to all kinds of rentals by families and companies to mark
special memories. Whether it's a retirement party for a colleague, a graduation party, a rehearsal dinner, or more – you couldn't envision a grand-er place for a party. Besides our 1000-seat auditorium and fully-equipped historic theatre, we also have two elegant reception rooms with full bars that are flexible for any occasion. Reach out to us to see if The Grand is right for your event.
18. "Your mother was a hamster and your father smelt of elderberries!"
Our $5 film series has so many combinations of quotable favorite movie screenings, but one of the best is coming up. Monty Python and the Holy Grail has been a comedy hit for generations. Polish up your British accent as you travel along with some of the greatest comedians of the 20th century in this King Arthur-inspired tale of silly antics. Whether you're a Monty Python diehard or you have never heard of this legendary group, you're going to leave laughing. Many of our films are chosen as Audience Choice movies, so keep watch later in the spring to vote on the films you want to see next year in May. You can even buy a flexible Movie Pass to save even more and experience films with the whole family – five admissions are just $20!
19. Ballet buns on little ones
Dancin', dancin', dancin'… we're a dancing machine! At the end of the school year, The Grand is super excited to say that we partner with many
community groups to help them accomplish their performances, especially many private dance schools around Middle Georgia. Each year, there are hundreds of tiny ballerinas who have their first debut at The Grand. These recitals are a celebration of the hard work by the students throughout the year, and a way for them to put their skills into practice in a full performance environment. The atmosphere is wonderful for families, from our ample backstage space to the perfect photo opp spots after the show. We also love when we get to partner with local music organization The Otis Redding Foundation, which teaches young musicians to thrive and learn more about their craft. Their music camps bring the harmony of song and smiles to all audience faces when they show off their students' creativity.
20. Burnishing up our indie film cred
Macon Film Festival is a great community organization that turns Macon into Hollywood for a week during the summer. The Grand was proud to serve as headquarters last year and to ticket all the events across venues. We know the film festival will bring the star power and unusual movies back this year. Bob Mavity, Senior Technical Director, has been involved with the film festival for many years. Here's his take on what makes the festival special: "My favorite thing about the Macon Film Festival is getting the opportunity to meet filmmakers from around the world when they come to Macon. Just that interaction with them, to really find out what their vision is and see how it matches up with what is on the screen."
21. Celebrating Macon's music heritage – and our bright future
Each year, Macon builds upon our reputation as a town for music. Over the past few years, for example, we've seen landmark dive-bar Grant's Lounge (where the greats have played after
shows for 50 years) get renovated and Mercer Music at Capricorn take off as a cultural icon for Southern rock fans and an incubator for new music. And the beat won't stop rolling in 2022. This season alone, the symphony has returned to Macon (here at The Grand!) with great flourish. A new amphitheater has been announced on the Macon Mall site that will break ground in 2022, leading to even bigger and better acts. And our friends at the Otis Redding Foundation have announced a new The Otis Redding Center for Creative Arts that they are fundraising to build. It seems we are in a new renaissance for Macon Music, and it will only get better with time!
22. Every moment we have with you.
It's about more than tickets and showtimes. We're here for the hugs in the lobby, the toasts to good news, the laughter that goes on a little too long. We enjoy every minute of being open and available as a community gathering place. So the biggest thing we're looking forward to in 2022 is simply seeing you here.